No results were found for the filter!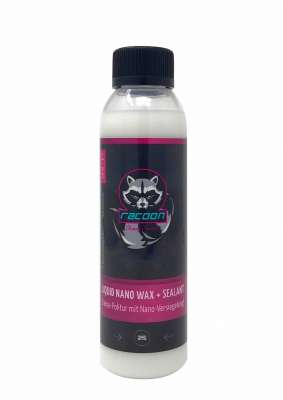 LIQUID NANO WAX + SEALANT
The creamy high-gloss polish and sealant for lacquered surfaces - with a refreshing effect! Produces a transparent, ultra-thin sealing layer with a deep effect and a long-lasting high-gloss finish! Excellent colour refreshment and stable...
Content
0.2 Liter
(€119.75 * / 1 Liter)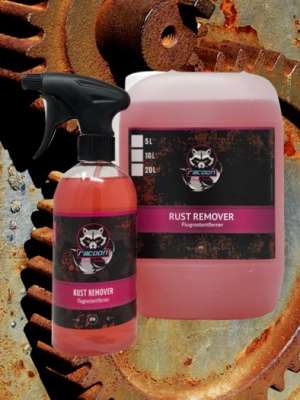 RUST REMOVER
Removes iron and metal particles quickly and completely! The Racoon Rust Remover dissolve flash rust from all vehicle surfaces safely and without residue before it can oxidize! The discoloration of the cleaner (indicator) indicates the...
Content
0.5 Liter
(€31.90 * / 1 Liter)
Racoon Fresh Air - with fragrance!
The natural and effective odor killer with fragrance but without chemicals! Stubborn and unpleasant odours from tobacco, animals,.... are neutralized thoroughly and permanently within a few minutes by the unique formula, the cause of the...
Content
0.1 Liter
(€99.80 * / 1 Liter)
GREEN MAMBA - Car Shampoo - pH neutral
Our classic! Now with even better cleaning power and a fresh fragrance! The new Racoon "GREEN MAMBA Shampoo" provides despite its mild and pH neutral formulation for a thorough and reliable car wash, without attacking the paint or...
Content
0.05 Liter
(€59.00 * / 1 Liter)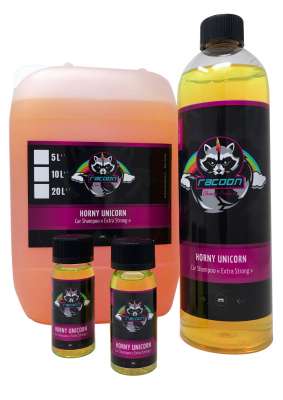 HORNY UNICORN - Car Shampoo «Extra Strong»
Strong as a bear! Cleans powerfully and effectively, but protects and cares for the paint! Racoon Horny Unicorn Shampoo has been specially developed for use with heavy soiling, including all types of moss and green infestation. The new...
Content
0.05 Liter
(€59.00 * / 1 Liter)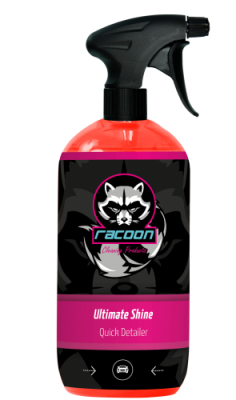 ULTIMATE SHINE - Quick Detailer
Ultimate deep shine and hydrophobic protection of surfaces at the same time! This water-based Detailer removes all common dirt on the outside (paint, glass, chrome, plastic) efficiently and safely. Also ideal as a caring, gentle cleaning...
Content
0.1 Liter
(€59.50 * / 1 Liter)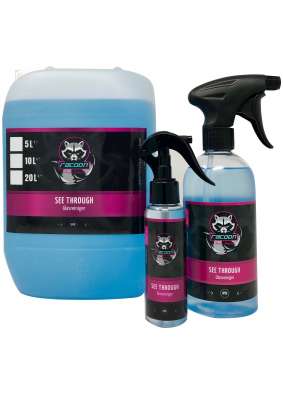 # SEE THROUGH Glass Cleaner
SEE THROUGH - More than just a Glass Cleaner! Gloss enhancing and with a new long-term effect! This innovative, gloss-enhancing GLASS CLEANER with long-term effect was developed for a quick, thorough cleaning and care of all plane glass...
Content
0.1 Liter
(€59.50 * / 1 Liter)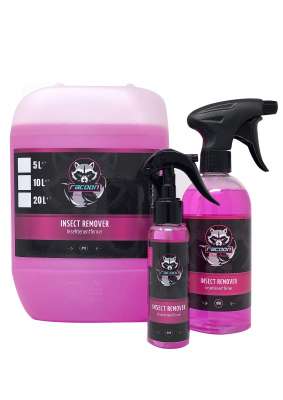 # INSECT REMOVER - Bug Remover
EXTRA - POWERFUL !!! But gentle to the environment and to all surfaces! Highly effective, dissolves quickly and residue-free encrusted and sticky insect dirt, bird droppings, as well as other organic impurities before the actual washing!...
Content
0.1 Liter
(€49.50 * / 1 Liter)
# WHEEL TORNADO - Rim Cleaner
With a new Racoon Formulation, a more stable adhesion and an even better active dirt dissolving power! This black layer of burnt-in brake dust, rubber and metal abrasion, tar, oils and salts adheres extremely stubbornly to all rims and...
Content
0.1 Liter
(€49.50 * / 1 Liter)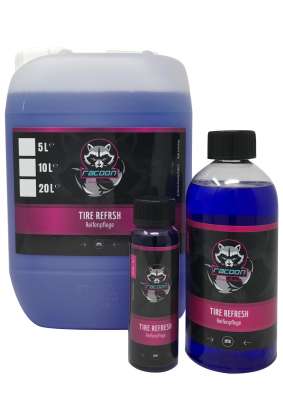 TIRE REFRESH
An optimized care product for tire flanks and rubber seals - without silicon! Deeply penetrating and caring active ingredients with a subtle shine effect keep the rubber supple, protect against UV radiation and fading, give it a like new...
Content
0.1 Liter
(€69.50 * / 1 Liter)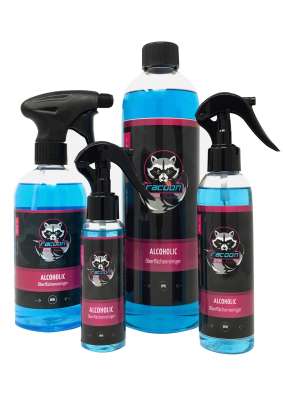 ALCOHOLIC - Degreaser / Surface Cleaner
The optimal preparation - before every application of wax and coatings! The surfaces are cleaned gently, without residue and thoroughly degreased. Residues of old polishes or waxes, oils and fats are reliably removed! The lacquered...
Content
0.1 Liter
(€59.50 * / 1 Liter)
Products from Racoon Cleaning Products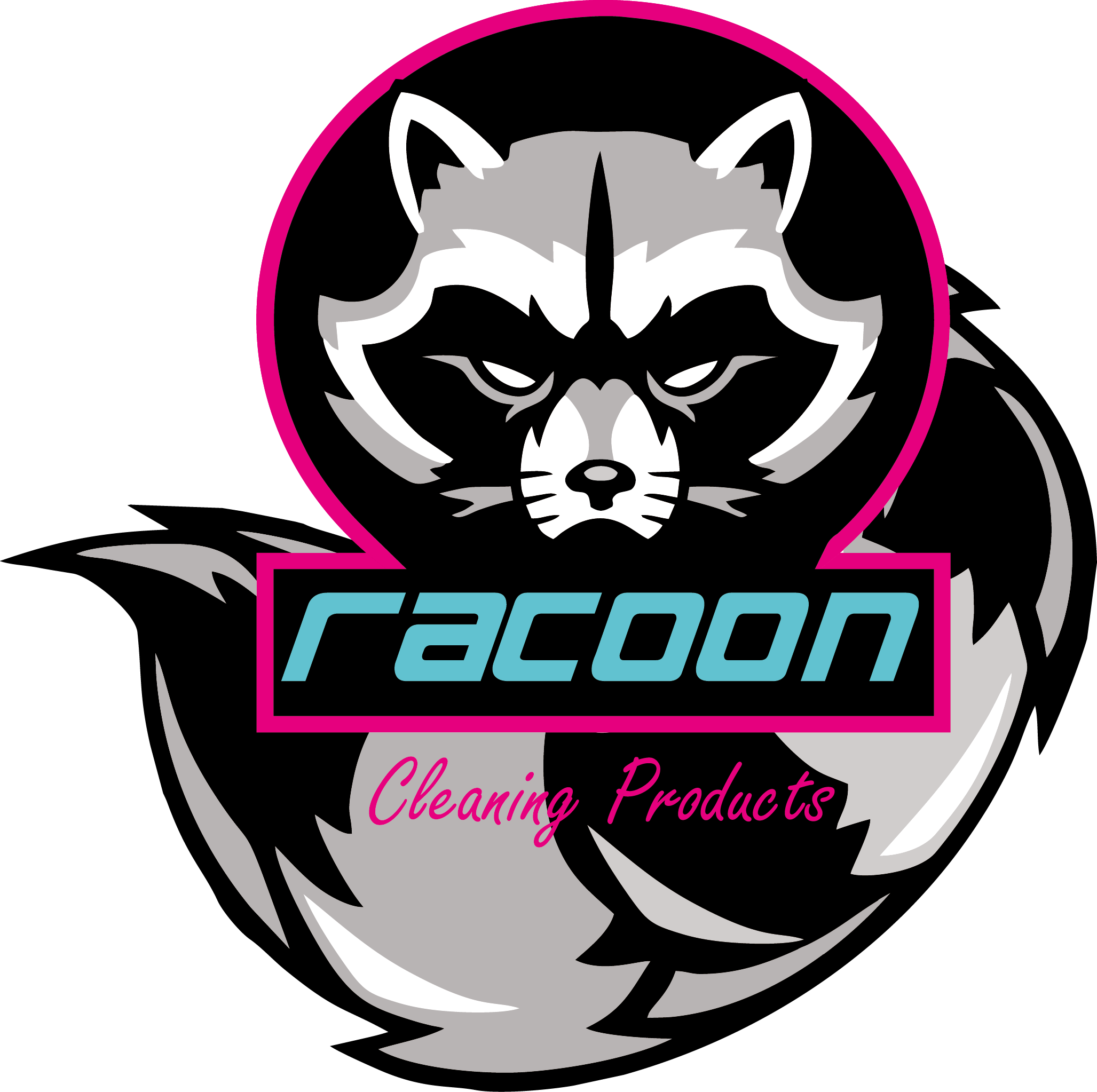 Cookie preferences
This website uses cookies, which are necessary for the technical operation of the website and are always set. Other cookies, which increase the comfort when using this website, are used for direct advertising or to facilitate interaction with other websites and social networks, are only set with your consent.